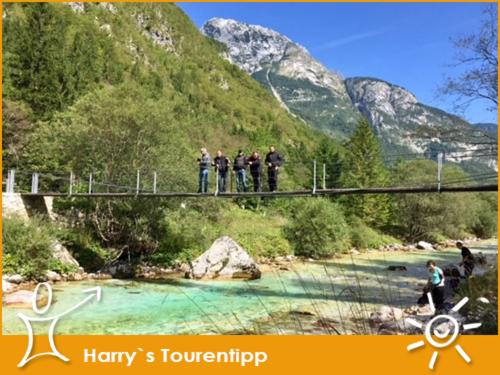 Through the Soca Valley 3 countries tour

The start at Faakersee takes you over the Wurzenpass to the Ski World Cup resort Kranjska Gora . From there, the road turns up to the Vrsic, a cobblestone-turned historic mountain road. 1914-1916 the street was built by Russian prisoners of war. In 2016 (on the 100th anniversary), Russian President Vladimir Putin visited the Russian Church on the rise to Vrsic. We stop too and visit the small wooden church.
It continues, over the pass down in the Soca Valley (previously Isonzo Valley).
At the origin of the Soca we make a short stop. After a five-minute walk you will see how the river Soca springs from the rocks of the Julian Alps. After a refreshing drink, we continue along the emerald green Soca through the valley. Incredible colors show the river and we stop briefly to enjoy the landscape on one of the many suspension bridges. After the drive along the Soca we come to Bovec. A small place with many outdoor sports facilities. We take a leisurely lunch to us. Typical here are cevapcici with enough ajvar and onions!
Strengthened it goes from Bovec from Italy and up to the Predil Pass . Above, right at the pass, there is a Lion Monument . This monument commemorates Captain Hermann von Hermannsdorf who fell there in 1809 in the fight against Napoleon. Already in Italy the Predil goes down to the Lago del Predil . We drive half a lap around the lake and then drive straight up to Sella Nevea . At the pass there is also a ski station. Then it goes down again, over tight bends, through a tunnel. Along a mountain stream we come to Chiusaforte in the channel valley. Then it goes along the channel valley back home, where we make a stop before in Tarvis . Quickly an original Italian coffee, before we drive back to Carinthia! Now it is not far to Lake Faakersee. Home waiting for the pool and a well-kept garages beer from the bottle!
Track length .......